Recovery Oriented System of Care (ROSC)
Vision: Establish an integrated, values-based recovery-oriented system of care where recovery is expected and achieved through meaningful partnerships and shared decision making with individuals, communities, and systems.
For behavioral health care to be more effective and attain greater return on investment, Florida must shift from an acute care model of service delivery to a recovery model, offering an array of services and supports to meet an individual's and family's pathway to recovery and wellness
Implementing a Recovery-Oriented System of Care (ROSC) framework across Florida allows the state to acknowledge and respect regional differences and priorities while ensuring that communities and systems deliver high-quality, evidence supported services based on a recovery-orientation. The state's opioid crisis, for instance, shows significant variation by county, suggesting that localized, recovery-oriented responses may prove more effective than traditional crisis-management approaches. Historically, traditional approaches have focused on stabilizing people and helping them initiate their recovery process. Recovery-oriented and Recovery Management approaches, in contrast, expand attention to include prevention and early intervention.
A ROSC is a network of clinical and nonclinical services and supports that sustain long-term, community-based recovery. As local entities, ROSCs implement the guiding principles of recovery orientation while reflecting the unique variations in each community's vision, institutions, resources, and priorities. Behavioral health systems and communities form ROSCs to:
Promote good quality of life, community health, and wellness for all.
Prevent the development of behavioral health conditions.
Intervene earlier in the progression of illnesses.
Reduce the harm caused by substance use disorders and mental health conditions on individuals, families, and communities; and
Provide the resources to assist people with behavioral health conditions to achieve and sustain their wellness and build meaningful lives for themselves in their communities.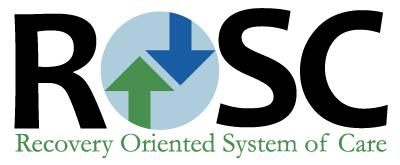 ROSC Whitepaper and other relevant resources
Statewide
ROSC-focused Action Plans, Newsletter Regional points of contact/MEs/ROQIS.